The Stanton/Gill Connection
The first Stanton and Gill connection begins in Clew Bay, County Mayo with the patriarchs Michael Stanton and Michael Gill. According to the Griffith's Valuation around 1860, Michael Stanton lived on the island of Crovinish and farmed several other islands, including Inishleague, with Michael Gill. Michael Gill lived on Insihgowla with 4 other families; Richard Stanton, Bridget Stanton, Thomas Gill, and John Golden. The Stantons on Insihgowla were probably related to Michael Stanton although the connection has not yet been made. However, in our search to locate relatives in Ireland, we received a letter from Margaret Staunton Meaney. Margaret was born on Inishgowla and was 3 ½ when her family moved off the island to Westport in 1930. We thought you would like to read the transcript of her letter:
Dear Sister Betty,
Some days ago Anna Hawkshaw gave me your letter – so now I better introduce myself. My name is Margaret Meaney and for over 40 years I have lived here at the above address. My maiden name was Staunton and I was born in Inishgowla.
My father was Thomas Staunton (Tom). He was the youngest of 13. He died in 1970 aged 86. Most of his sisters and brothers went to the U. S. and settled in Cleveland – all are long since dead. My parents moved to Carraholly in 1930 and my brother and his family are still living there. I had 7 brothers and 3 sisters – 2 died in infancy. The rest are still hale and hearty! My mother taught in the island school for many years and then continued to teach in Carraholly school until she retired in 1953.
Nobody lives on that island now. You can understand how hard life must have been for anyone in an island and so people just left and scarcely ever came back. Very few islands are inhabited right now.
This letter is probably of very little help to you but I just thought I should write. Wishing you all the best – remember me in your prayers.
Sincerely,
Margaret Meaney
Another Gill clan lived and farmed an island 2 miles north named Island More. Many of these families intermarried, including our ancestors Michael Stanton who married Bridget Gill and had at least 4 children, Bridget Stanton (married John Gill), Martin, John, and Margaret. Margaret died before 1938; John lived on Washington Avenue and died in Cleveland on August 13th, 1938.
Once in Cleveland, Martin Stanton married Ann Kane and together they had five children: Mary, Margaret, Elizabeth, Catherine, and Martin J., nicknamed "Skid".
Children:
Ø Mary Stanton (b: 4/25/1887, d: 6/3/1978) m: John Babington (d: 6/24/1953)
· Helen Babington m: Unknown McNamara, m: George Rossman (d: 11/2/1962)
· Mary C. Babington
· James S. Babington m: Frances Casidy
· John J. Babington m: Marie
· Richard M. Babington m: Kathleen Van Valkenburgh
· Therese M. Babington (b: 12/5/1924, d: 6/14/2000)
· Joseph Babington (d: 6/29/1930)
· Martin J. Babington (d: bef 1978)
· Margaret Babington (d: 10/22/1916)
Ø Margaret Stanton (b: abt 1888, d: 2/15/1992) 103 years old!
Ø Elizabeth Stanton (b: abt 1890, d: abt 1984) m: Harold E. Behm
Ø Catherine Stanton (b: abt 1892, d: abt 1983) m: Patrick J. Moran (d: 11/3/1956) Vero Beach, Florida
Ø Martin J. "Skid" Stanton (b: abt 1894, d: 7/4/1967) m: Loretta McFadden (d: 8/2/1941)
· Dorothy Ann Stanton (b: abt 1926, d: 7/24/1967)
· Thomas F. Stanton
· James V. Stanton
· Joseph (Brother M. Nivard, O.C.S.O.) (b: abt 1927, d: 6/19/2001)
· Mary Loretta Stanton (b: abt 1924, d: abt 1999)
<![if !vml]>

<![endif]>

The second Stanton and Gill connection was through Mary Gill. Mary married John McDonald, their daughter Eileen McDonald married Harold "Buddy" Stanton and had one son, John "Bunky" Stanton. Eileen worked for the Internal Revenue Service. John Stanton married Jean Francis Babinec.
<![if !vml]>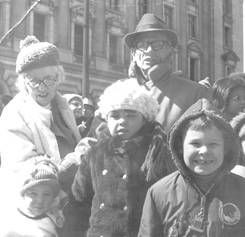 <![endif]>
The Stantons 1972
Eileen McDonald Stanton, Harold "Buddy" Stanton, (front) Patty, Jackie, James